What is the working principle of a small nitrogen machine?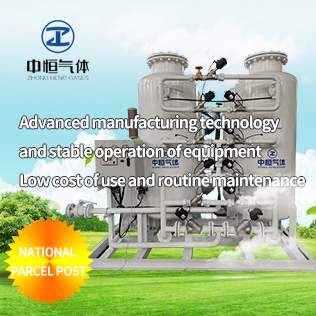 According to the principle of pressure swing adsorption, the small nitrogen machine uses high quality carbon molecular sieve as adsorbent, and the small nitrogen machine produces nitrogen from air under certain pressure. After purifying and drying compressed air, pressure adsorption and decompression desorption are carried out in the adsorber. Owing to the aerodynamic effect, the diffusion rate of oxygen in the micropore of carbon molecular sieve is much higher than that of nitrogen. Oxygen is preferentially adsorbed by carbon molecular sieve, and nitrogen is enriched in the gas phase to form finished nitrogen. The small nitrogen machine is then regenerated by decompression to atmospheric pressure, and the adsorbent desorbs the adsorbed oxygen and other impurities. Small scale nitrogen machine usually sets up two adsorption towers in the system, one is to adsorb nitrogen and the other is to desorb and regenerate. The opening and closing of pneumatic valve is controlled by PLC program controller, so that the two towers can be cycled alternately, so as to realize the purpose of continuous production of high quality nitrogen. The whole system of small nitrogen machine consists of the following components: compressed air purification module, air storage tank, oxygen and nitrogen separation device,nitrogen buffer tank.
Wuxi Zhongheng Gas Equipment Manufacturing Co., Ltd. is a specialized manufacturer of gas separation equipment. It has advanced technical advantages in the nitrogen machine industry. Because of its focus, it is professional. With advanced science and technology, high quality and efficient service, it enjoys a good reputation in the industry and high-tech entities in many fields.
Readers of this article also read: Working Principle of Nitrogen Making Equipment, small nitrogen machine is divided into several types?