Nitrogen production equipment refers to the equipment which uses air as raw material and uses physical method to separate oxygen and nitrogen to obtain nitrogen. According to the different classification methods, i. e. cryogenic air separation, molecular sieve air separation and membrane air separation, industrial nitrogen machine can be divided into three kinds.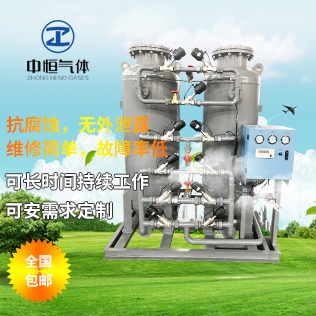 Wuxi Zhongheng Gas Equipment Manufacturing Co., Ltd. is a specialized manufacturer of gas separation equipment. It has advanced technical advantages in the nitrogen machine industry. Because of its focus, it is professional. With advanced science and technology, high quality and efficient service, it enjoys a good reputation in the industry and high-tech entities in many fields.
Technological characteristics of nitrogen making equipment:
(1) Pressure swing adsorption (PSA) nitrogen production equipment has the characteristics of wide gas source, high product purity, simple process, high degree of automation, low operation cost and so on.
(2) Compressed air purification components have long service life, easy to replace and maintain.
(3) The outlet flow of nitrogen-making equipment is large and the outlet pressure can be adjusted within a set range.
(4) According to the production situation, it can start and stop at any time.
(5) The purity of nitrogen is high. The purity of nitrogen can be more than 99.99% by pressure swing adsorption. There is no need to configure nitrogen purification equipment.
Readers of this article also read: process characteristics of nitrogen plant, safe operation process of nitrogen machine